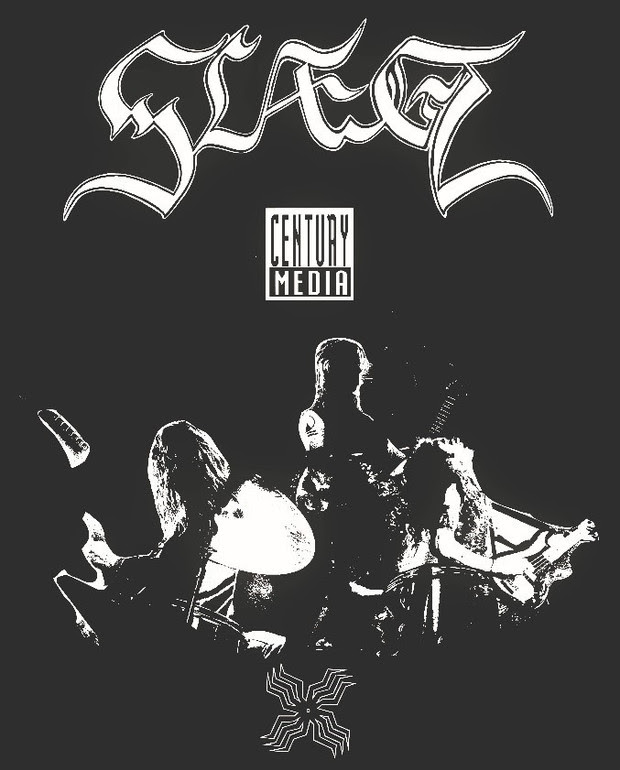 I blackster danesi SLAEGT (a.k.a. Slægt, che significa "lignaggio" / "patrimonio" in lingua danese e pronunciato /slɛɡt/) sono entusiasti di annunciare la firma con Century Media Records. Il nuovo e quarto album della band di Copenhagen si intitolerà "Goddess" e sarà pubblicato in tutto il mondo il 18 marzo 2022.
Il commento della band:
"È con estremo piacere che possiamo finalmente annunciare di aver firmato con Century Media. Century Media è un caposaldo all'interno del mondo metal, la loro storia parla da sola e il loro roster di band attuali e passate è incredibile. La label è composta da persone appassionate e professionali il cui lavoro è molto impressionante per quanto riguarda il modo in cui riescono ad essere un'etichetta di successo pur comprendendo e rispettando il processo creativo e il lavoro dei loro artisti. Quindi sarebbe un eufemismo dire che siamo davvero impazienti di vedere dove questa collaborazione porterà noi, la nostra musica e i nostri ascoltatori."
Il commento del vice presidente di CMR, Phillipp Schulte:
"Siamo felici di annunciare questa partnership mondiale con Slaegt. La visione della band, la loro passione e il coraggio di creare musica oscura e senza tempo così come le loro performance dal vivo mozzafiato hanno fatto una grande impressione su tutti noi. Non potremmo essere più orgogliosi di dare il benvenuto a questa grande band alla Century Media Records." 
Ulteriori dettagli verranno annunciati il 14 gennaio 2022 assieme al primo singolo e video estratto dal nuovo album.
 
---
Additionally, Slaegt have just announced a next European tour together with fellow Danish group Demon Head, to follow the new album's release. These are the exact dates:
 
Slaegt + Demon Head – "Nine Black Torches" European Tour 2022
31.03.2022 Copenhagen (Denmark) – Stairway
01.04.2022 Weimar (Germany) – Kasseturm
02.04.2022 Abtenau (Austria) – Neudegg Alm w/ Grave Miasma, The Ruins of Beverast, etc.
03.04.2022 Dresden (Germany) – Chemiefabrik
04.04.2022 Dortmund (Germany) – Junkyard
05.04.2022 Rotterdam (The Netherlands) – Baroeg
06.04.2022 Antwerp (Belgium) – Het Bos
07.04.2022 Paris (France) – Glazart
08.04.2022 Winterthur (Switzerland) – Gaswerk
09.04.2022 Ljubljana (Slovenia) – Klub Gromka
10.04.2022 Zagreb (Croatia) – Močvara
11.04.2022 Budapest (Hungary) – Robot
12.04.2022 Vienna (Austria) – Arena
13.04.2022 Prague (Czechia) – Underdogs
14.04.2022 Berlin (Germany) – TBA
15.04.2022 Malmö (Sweden) – Plan B
16.04.2022 Gothenburg (Sweden) – The Abyss
17.04.2022 Stockholm (Sweden) – Hus 7
Tour info: http://www.killtownbookings.com/
Other Slaegt appearances in 2022 are as follows:
Slaegt – Live 2022:
22.-24.09.2022 Auzas (France) – L'Homme Sauvage Festival
More dates to be announced soon…
About SLAEGT:
Starting out as a one-man Black Metal project in 2011, the band has grown into a four-piece and developed a signature sound of their own, combining well-known styles with influences from beyond the sphere of hard rock and heavy metal. Slaegt comment: "Amalgamation leads to the redefinition of genres. At our core, we draw from a wide range of genres, styles, and time periods and we combine them in a way that speaks to us deeply. We have many shades on our palette, both light and dark. These are, as in life, interwoven and become ever-changing constants." With three albums and several EP's to their name so far as well as over 150 concerts under their belt, including three European tours and appearances at major festivals like Copenhell, Roadburn, Party.San and Roskilde, Slaegt have built a strong following and achieved critical acclaim both at home and internationally.