Gli alfieri del melodic death svedese AT THE GATES pubblicano oggi il nuovo album "The Nightmare Of Being", su Century Media Records. Disponibile il video della title-track, diretto da Patric Ullaeus / www.rEvolver.se (Arch Enemy, In Flames, Dimmu Borgir, etc.): https://youtu.be/_piYcbufqrw 
Il commento del cantante Tomas Lindberg Redant:
"Una delle tracce principali dell'album, veramente oscura e inquietante, con alcune classiche armonie old school in stile AT THE GATES. Credo che alcuni di voi abbiano già letto qualcosa riguardo il concept dell'album e questa è appunto l'introduzione a detto concetto, l'idea portante che la coscienza dell'umanità è il fantasma dei nostri incubi, la piaga che ci spinge all'estinzione. Sono davvero felice che Patric Ullaeus abbia avuto la possibilità, ancora una volta, di interpretare i temi oscuri della nostra musica con questo video. Oggi potete anche, finalmente, ascoltare l'intero album! È, come detto in precedenza, l'album più ricco, cinematografico, strutturato, stratificato, progressivo e dinamico che abbiamo mai scritto. Grazie per l'ascolto!"
Disponibili anche i precedenti singoli:
"Spectre of Extinction": https://www.youtube.com/watch?v=oNKxMkHavAw
"The Paradox": https://www.youtube.com/watch?v=PZPvry4H9N0 
"The Fall Into Time": https://youtu.be/E8QHPfRFo2Y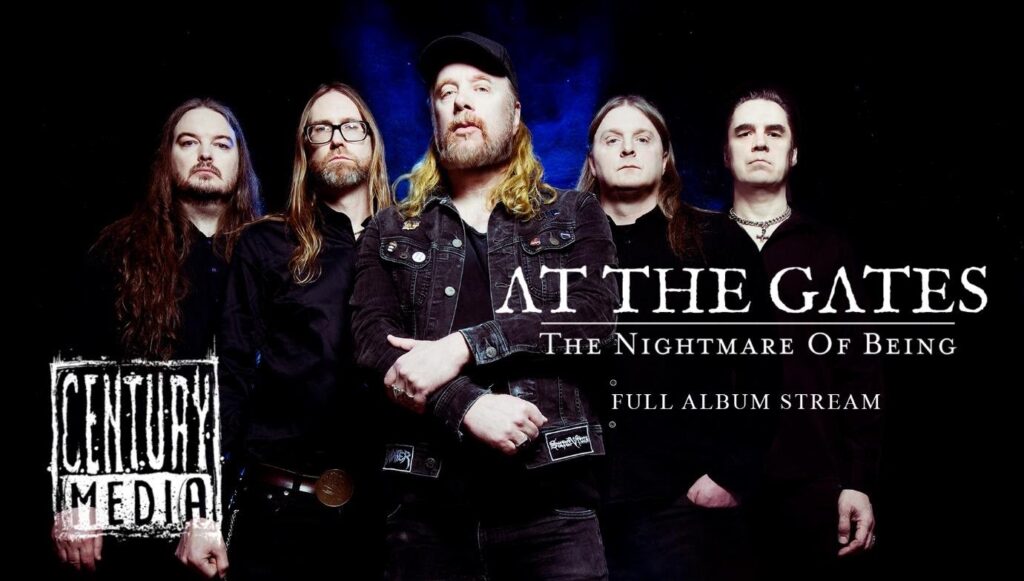 Per celebrare l'uscita del nuovo album gli At The Gates terranno un evento in streaming con l'ascolto dell'intero album e una breve chat con il cantante Tomas Lindberg Redant. Seguine la premiere  domani sabato 3 luglio alle 20:00 a questo link: https://youtu.be/1W3avpbtmM0 
Di seguito artwork e tracklist: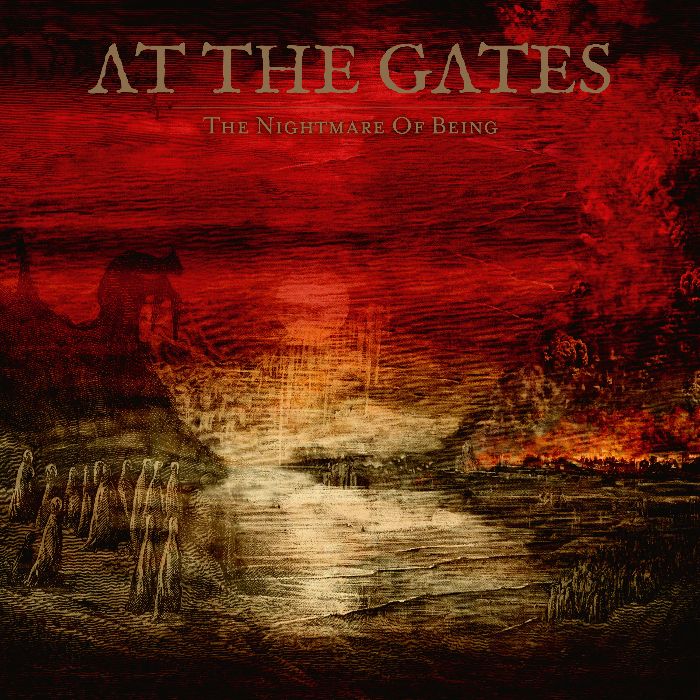 1. Spectre of Extinction
2. The Paradox
3. The Nightmare of Being
4. Garden of Cyrus
5. Touched by the White Hands of Death
6. The Fall into Time
7. Cult of Salvation
8. The Abstract Enthroned
9. Cosmic Pessimism
10. Eternal Winter of Reason
Nonostante molte parti del disco siano state registrate in differenti studio svedesi (le batterie presso Studio Gröndal con Jens Bogren, le chitarre e il basso con Andy La Rocque ai Sonic Train Studio e le voci al Welfare Sounds con Per Stålberg) l'album è stato mixato presso il Fascination Street Studios (Amon Amarth, Opeth, Kreator, etc.) da Jens Bogren, già al lavoro con la band con l'album "At War With Reality" del 2014. L'artwork è stato curato da Eva Nahon.
"The Nightmare Of Being" è disponibile nei seguenti formati: https://atthegates.lnk.to/TheNightmareOfBeing
– Ltd. Deluxe Transparent Blood Red 2LP+3CD Artbook
– Ltd. 2CD Mediabook
– Standard CD Jewelcase
– Standard LP
– Digital Album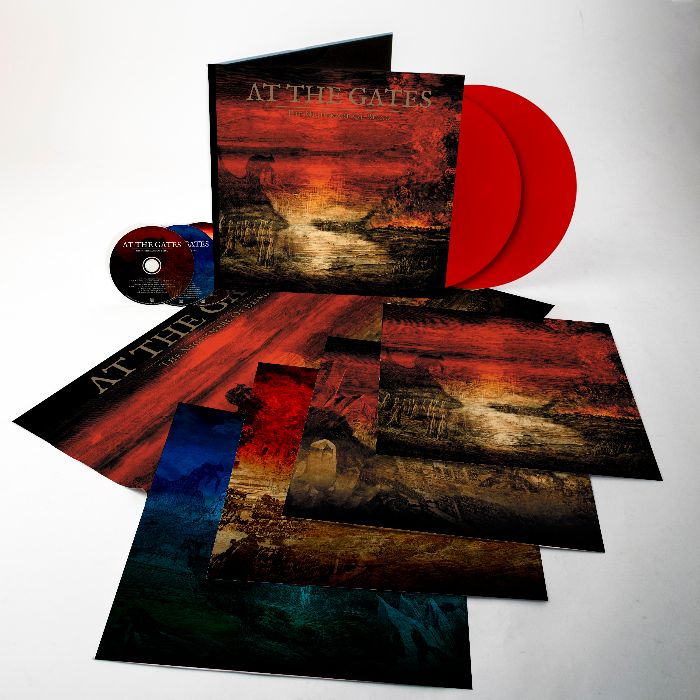 La limited edition 2LP+3CD Artbook contiene l'intero album su vinile colorato blood red da 180g oltre a un LP+CD di 9 tracce live e l'intero album in versione strumentale, bookleet da 32 pagine, un doppio poster in formato A2 e 4 cartoline. Il formato 2CD Mediabook include il booklet esteso da 32 pagine e il live su CD come bonus.
Di seguito la tracklist del live album incluso
1. Red (King Crimson cover, Live at Roadburn)
2. The Scar (Live at Roadburn)
3. Koyaanisqatsi (Philip Glass cover, Live at Roadburn) 
4. The Burning Darkness (Live at Roadburn)
5. Daggers of Black Haze (Live in Stockholm)
6. Death and the Labyrinth (Live in San Francisco)
7. A Stare Bound in Stone (Live in San Francisco)
8. Heroes and Tombs (Live in San Francisco)
9. The Night Eternal (Live in San Francisco)
La versione standard dell'LP contiene il doppio poster in formato A2 ed è disponibile nelle seguenti colorazioni:
Black LP – Unlimited
Transparent Blue LP – 300x copies via CM Webshop and CM Distro Europe
Bright Gold-Deep Blood Red Splattered LP – 500x copies via Amazon Germany
Sky Blue – 300x copies via EMP
White LP – 300x copies via Nuclear Blast
Bright gold LP – 300x copies via Supreme Chaos
Lilac – 300x copies via Napalm Records
Silver LP – 300x copies via Bengans / Sweden
Transparent Petrol Green – 300x copies via Eyesore Merch / UK
Bone Colored LP – 500x copies via Indie Stores / CM USA
Black Ice LP – 300x copies via CM Webshop USA
Ultra Clear LP – 300x copies via Revolver USA
Tan Colored LP – 300x copies via Decibel USA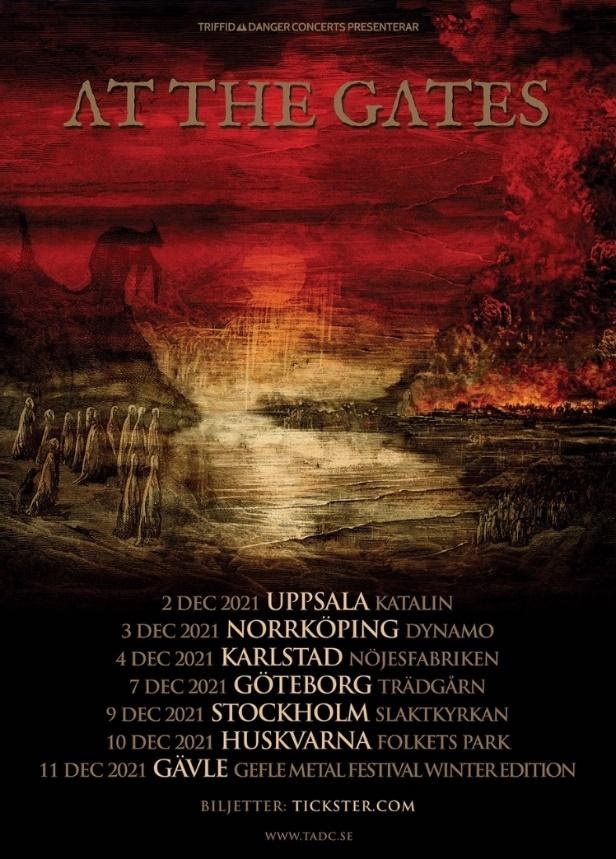 AT THE GATES have announced a string of shows in their home territory of Sweden for December to promote "The Nightmare Of Being". Here are all currently confirmed dates, also including a few first festival appearances:
AT THE GATES – Live 2021 / 2022:
13.08.2021 Kortrijk (Belgium) – Alcatraz Festival
02.10.2021 Larvik (Norway) – Spetakkel Festivalen
02.12.2021 Uppsala (Sweden) – Katalin
03.12.2021 Norrköping (Sweden) – Dynamo
04.12.2021 Karlstad (Sweden) – Nöjesfabriken
07.12.2021 Göteborg (Sweden) – Trägårn
09.12.2021 Stockholm (Sweden) – Slaktkyrkan
10.12.2021 Huskvarna (Sweden) – Folkets Park
11.12.2021 Gävle (Sweden) – Gefle Metal Winter fest
05.02.2022 Fredericia (Denmark) – Metal Magic Winter Festival
17.06.2022 Clisson (France) – Hellfest
23.06.2022 Nummijärvi (Finland) – Nummirock Festival
15.07.2022 Gävle (Sweden) – Gefle Metal Festival
More shows will be announced soon…
Stay tuned for more news on AT THE GATES and "The Nightmare Of Being" coming soon…
AT THE GATES line-up:
Adrian Erlandsson – Drums
Jonas Björler – Bass
Tomas Lindberg Redant – Vocals
Jonas Stålhammar – Guitar
Martin Larsson – Guitar
AT THE GATES online:
http://www.atthegates.se
https://www.facebook.com/AtTheGatesOfficial
https://twitter.com/AtthegatesGBG
http://www.youtube.com/atthegatesofficial