Oggi gli alfieri dello Swedish black metal DARK FUNERAL sono lieti di presentare una prima anticipazione di "We Ae The Apocalypse", il nuovo album in uscita il 18 marzo 2022 su Century Media Records. Il primo singolo estratto è "Let The Devil In", guarda il video girato da Grupa13: https://youtu.be/JCN8qkWVu1w
 Il commento del chitarrista e fondatore Lord Ahriman:
"Può sembrare una canzone leggermente diversa per i nostri canoni ma contiene ancora la vera oscurità e il vero spirito che sono i Dark Funeral. Era ovvio per tutti noi che questa sarebbe stata la canzone con cui esordire. Il video del brano è stato girato a Breslavia, Polonia, assieme al team di Grupa13. È stato davvero un grande piacere lavorare con un team così professionale. Il risultato è eccezionale e si adatta a questa oscura storia che è 'Let The Devil In'."
Lascia che il Diavolo entri come prova delle grandi azioni che puoi compiere quando ti rivolgi alla tua oscurità più profonda e in armonia diventi una cosa sola con il tuo diavolo interiore. GODETEVI IL BUIO!"
"We Are The Apocalypse" è disponibile per il preorder a questo link: https://darkfuneral.lnk.to/WeAreTheApocalypse
Disponibile anche il merchandise ufficiale della band a questo link: http://www.diaboliswear.com
L'album sarà pubblicato nei seguenti formati
Ltd. Deluxe clear-black marbled LP & CD Box Set incl. poster
LP
Ltd. CD Digipak
Digital Album
Il formato vinile sarà disponibile nelle seguenti colorazioni:
Black LP – unlimited
Silver LP – limited to 400 copies worldwide, only available through Swedish outlets & EMP
Red LP – limited to 1000 copies worldwide
Ultra-clear-blue-white-black splattered LP – limited to 500 copies worldwide, only available through official band shop
Di seguito artwork e tracklist di "We Are The Apocalypse":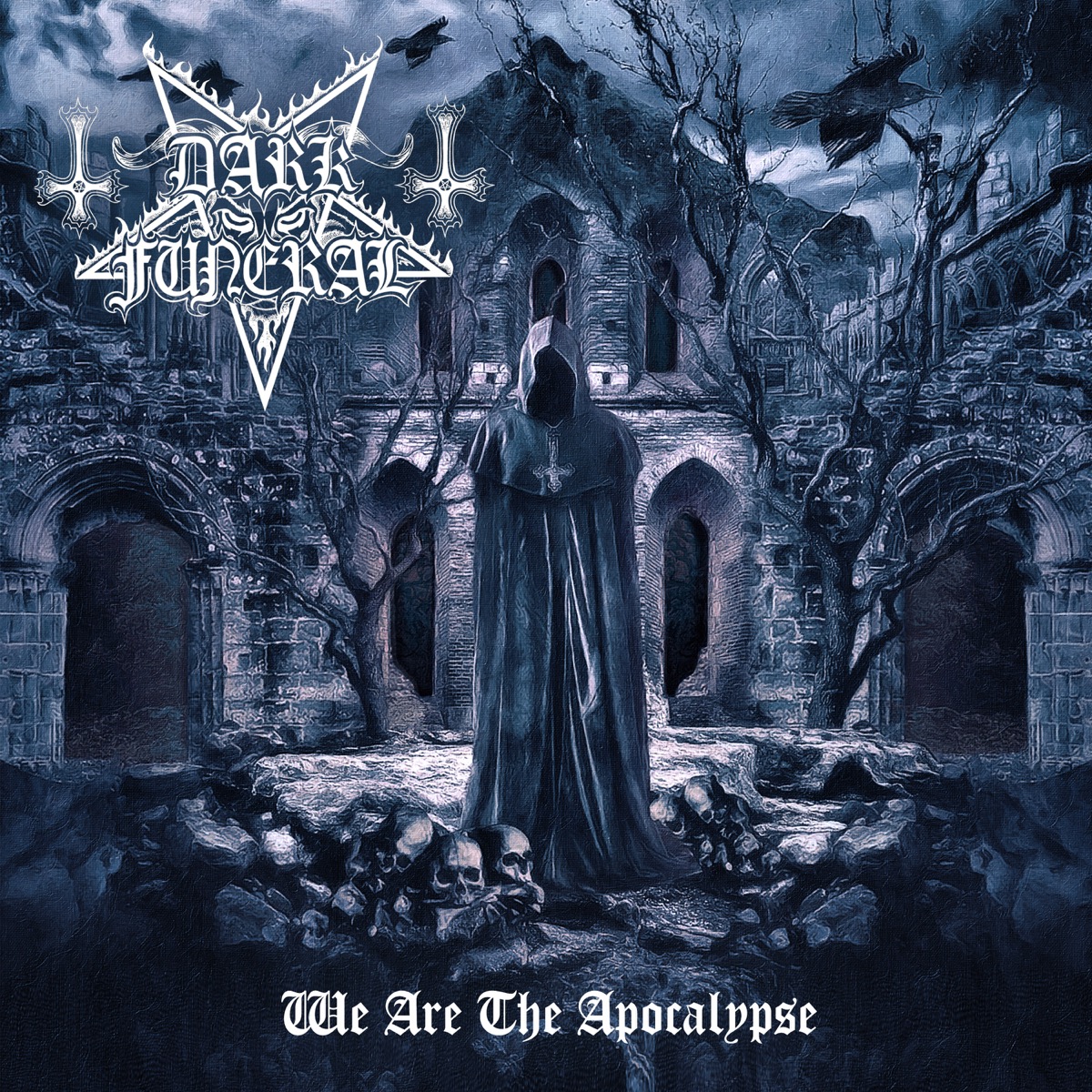 1. Nightfall
2. Let The Devil In
3. When Our Vengeance Is Done
4. Nosferatu
5. When I'm Gone
6. Beyond The Grave
7. A Beast To Praise
8. Leviathan
9. We Are The Apocalypse
---
But not enough, DARK FUNERAL will play a very special album release show on March 19th, 2022 at Fållan in Stockholm, Sweden, supported by special guest Samael and support act Eleine.
The show will also be streamed online. Streaming tickets will be available soon.
Order your tickets HERE: https://www.tickster.com/sv/events/khf2c5zuwm68att
To stay updated just follow the link HERE https://fb.me/e/136d8fLrL where a steady stream of information about the release show will be provided.
DARK FUNERAL are:
Lord Ahriman – Guitars
Heljarmadr – Vocals
Chaq Mol – Guitars
Jalomaah – Drums
Adra Melek – Bass
DARK FUNERAL online:
https://www.darkfuneral.se
https://www.facebook.com/darkfuneral
https://www.instagram.com/darkfuneralofficial
https://www.youtube.com/darkfuneral
DARK FUNERAL live:
19.03. Stockholm, Sweden – Fållan
24.04. Tel Aviv, Israel – Gagarin Club TLV
07.05. Camden, United Kingdom – Electric Ballroom
10.06. Esbjerg, Denmark – Death Coast Festival 2022
11.06. Leeuwarden, Netherlands – Into The Grave 2022
24.06. Oslo, Norway – Tons Of Rock 2022
07.07. Ballenstedt, Germany – Rockharz Open Air 2022
15.07. Kristianstad, Sweden – Kristianstad Rockfest
10.08. Jaromer, Czech Republic – Brutal Assault 2022
12.08. Kortrijk, Belgium – Alcatraz 2022
13.08. Obermehler, Germany – Party San Open Air 2022
14.08. Walton On Trent, United Kingdom – Bloodstock Open Air 2022
20.08. Dinkelsbühl, Germany – Summer Breeze Open Air 2022
For more information and ticket shops click the link HERE: https://bnds.us/iexs8t