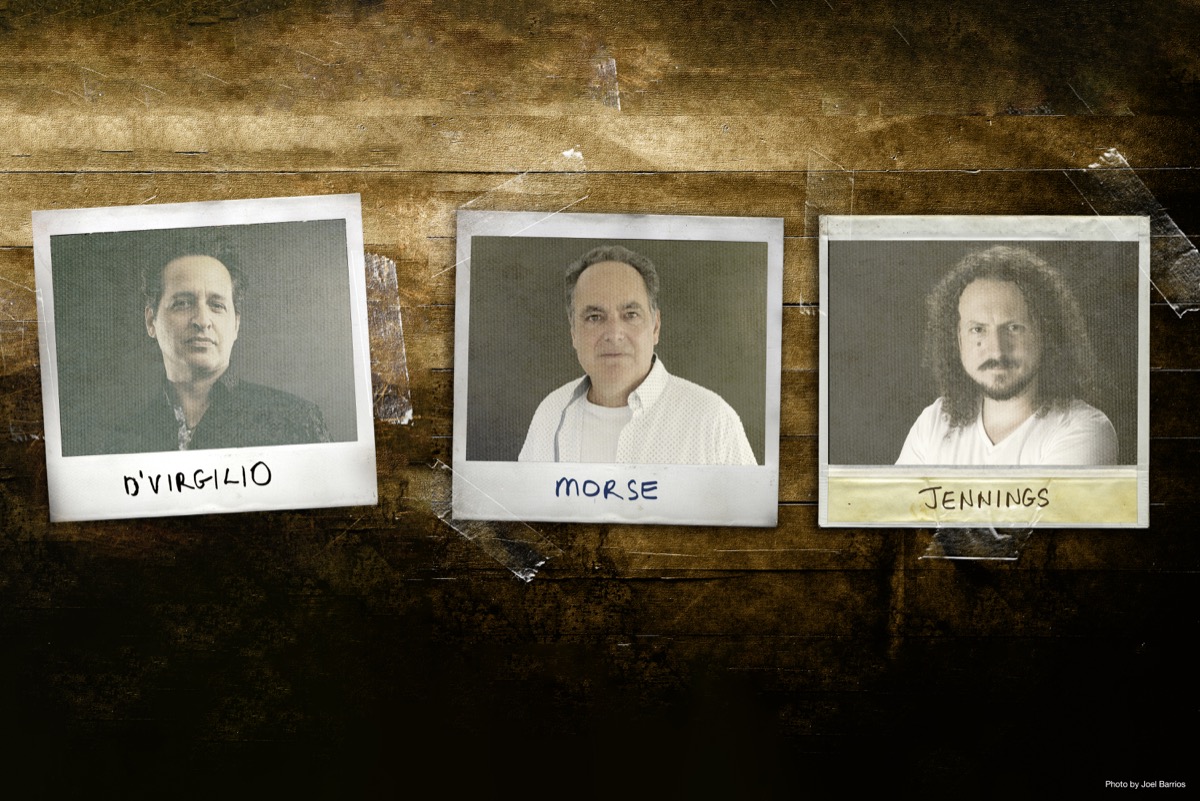 Nick D'Virgilio (Big Big Train, ex-Spock's Beard), Neal Morse (Transatlantic, NMB, ex-Spock's Beard) e Ross Jennings (Haken, Novena) sono lieti di annunciare il nuovo trio D'VIRGILIO, MORSE & JENNINGS. La band ha firmato con Inside Out Music per la release dell'album di debutto "Troika", previsto in uscita a inizio 2022. L'album è stato registrato durante il lockdown partendo da alcune tracce in acustico registrate da Neal Morse pensate espressamente per la voce dell'ex compagno negli Spock's Beard Nick D'Virgilio e del talentuoso Ross Jennings. Tutti e tre hanno scoperto di avere canzoni che avrebbero beneficiato della miscela armonica delle tre parti e così hanno messo insieme le proprie risorse inserendosi creativamente nelle composizioni degli altri.
Il commento di Neal:
"Che grande piacere è stato lavorare su questo album con questi incredibili artisti! È stato parecchio divertente… Abbiamo lavorato sulle canzoni a distanza per diversi mesi prima che finalmente sentissi tutti noi cantare insieme allo stesso tempo e nella stessa stanza. La prima volta che alzai i fader sapevo che avevamo la magia tra le mani!"
Il commento di Nick:
"Conosco e ho lavorato con Neal per oltre 30 anni e sono sempre stato un grande fan di Ross e della sua musica. Me lo sentivo che sarebbe stato fenomenale essere parte attiva di questo progetto. Non mi sono sbagliato."
Il commento di Ross:
"Ricevere la chiamata di Neal a partecipare a questo progetto è stato come l'avverarsi di una preghiera…come fan di lunga data dei loro lavori mi è sembrato davvero naturale che la mia voce entrasse a far parte del team."
Maggiori dettagli verranno comunicati nei prossimi mesi.
 
---
Nick D'Virgilio can be heard most recently on Big Big Train's latest studio album 'Common Ground', and will tour with the band in 2022.
Neal Morse has just released the fourth album as part of NMB (The Neal Morse Band) alongside Mike Portnoy, Randy George, Eric Gillette & Bill Hubauer. 'Innocence & Danger' is out and they will begin a tour in support of it later this year.
Ross Jennings is the vocalist in Haken, who released their latest acclaimed album 'Virus' in 2020. He is about to release his debut solo album 'A Shadow of my Future Self' on the 19th November.
D'Virgilio, Morse & Jennings ONLINE:
https://www.facebook.com/ndvofficial/ 
https://www.nickdvirgilio.com/ 
https://www.instagram.com/ndvirgilio/ 
https://twitter.com/NDVmusic 
https://www.facebook.com/nealmorse/ 
https://twitter.com/nealmorse 
https://www.instagram.com/neal_morse_official/ 
www.rossjennings.co.uk
https://www.instagram.com/rossjenningsofficial/ 
https://www.facebook.com/rossjenningsofficial
https://twitter.com/RossWJennings