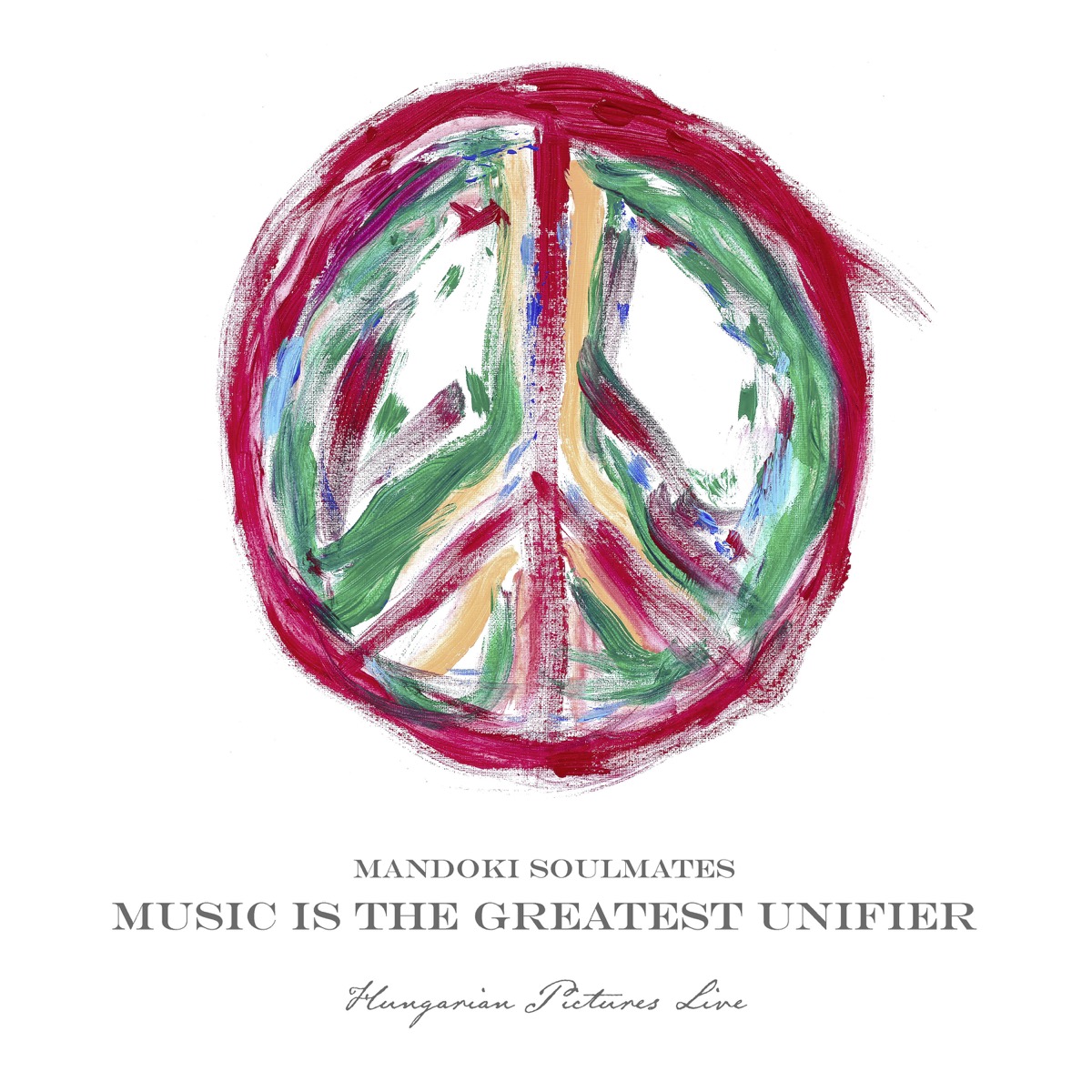 Milioni di persone hanno seguito in diretta il concerto "Music Is The Greatest Unifier" dei MANDOKI SOULMATES. Oggi la band è lieta di annunciare la pubblicazione di quel concerto, ora disponibile su tutte le piattaforme digitali: https://mandokisoulmates.lnk.to/MusicIsTheGreatestUnifierHungarianPicturesLive 
Sotto il titolo "MUSIC IS THE GREATEST UNIFIER! BRIDGING THE GAP AROUND THE WORLD!" i Mandoki Soulmates hanno suonato la loro suite progressive rock "Hungarian Pictures" per quasi un'ora e mezza il 26 marzo 2021. Questa volta il palco virtuale non era solo pieno del solito alto calibro di musicisti ma nel senso letterale della parola da artisti di tutto il mondo, di tutte le parti del mondo, i quali hanno fatto musica insieme, dal vivo, online e dalle proprie case.
Assieme a Leslie Mandoki troviamo Nick van Eede (Cutting Crew), Ian Anderson (Jethro Tull), Szakcsi, John Helliwell (Supertramp), Steve Bailey, Al Di Meola, Jesse Siebenberg (Supertramp), Cory Henry, Mike Stern, Randy Brecker, Bill Evans, Tony Carey, Richard Bona, Peter Maffay, Till Brönner, Jane Xie, Deobrat Mishra, Moto Fukushima, Surreal e Margarita.
Il commento dello stesso Leslie Mandoki:
"Noi musicisti, pensando con il cuore e con una fede incrollabile nella musica e il suo potere di unire le persone, abbiamo dato vita all'idea di 'Music is the Greatest Unifier—Bridging the Gap Around the World' nel bel mezzo del primo lockdown del 2021.
La pandemia ha reso i concerti, come li amiamo e li conosciamo, impossibili da realizzare. Tuttavia non possiamo restare fermi, dobbiamo essere più forti che mai! Le sfide globali che l'umanità sta affrontando, le pandemie, le crisi finanziarie ed economiche, la migrazione e l'integrazione, il cambiamento climatico, saranno affrontate solo se supereremo le divisioni attraverso tutte le frontiere.
Proprio come la digitalizzazione permette alle anime gemelle di fare musica insieme, nonostante le divisioni locali, la musica permette di superare alcune divisioni nella nostra mente. Superiamo le divisioni, costruiamo ponti e facciamo di tutto per la coesione tra Nord e Sud, Est e Ovest. Siamo tutti europei, africani, americani, asiatici e australiani! E la musica è il linguaggio comune che ci unisce attraverso tutte le barriere.
Ecco perché i Mandoki Soulmates, insieme a musicisti provenienti da tutte le parti del mondo, stanno alzando la loro voce per l'unità e contro la divisione attraverso tutti i confini: fisico, culturale e intellettuale con questa serie di concerti online."
 
---
September 24, 2021 saw the release of Mandoki Soulmates' new worldwide multi-format release "Utopia for Realists" on the Sony InsideOut label, in which Leslie Mandoki's culturally relevant, socially aware prog-rock, flavored with the virtuosity of jazz-rock, is tightly integrated with visionary concepts from world-famous animator Gábor Csupo for Mandoki's magnum opus "Hungarian Pictures," inspired by the music of Béla Bartók.
With his Soulmates, including over the years many of the brightest lights of progressive rock and jazz, Mandoki has created a sophisticated and mature new music, combining the intellectual and artistic essence of British prog-rock with the virtuosic brilliance of the New York jazz-rock and fusion scene.                    
https://mandokisoulmates.lnk.to/UtopiaForRealists-HungarianPictures
Starting with concerts in Berlin, Munich and Hamburg, the tour of the same name will finally continue from November 5, 2022, with the Mandoki Soulmates making guest appearances in 17 cities throughout Germany.
https://mandoki-soulmates.com/live
Soulmates and their location in the online concert
Leslie Mandoki – Lake Starnberg / Ian Anderson – Jethro Tull – Oxford / Nick van Eede – Cutting Crew – London
Till Brönner – Berlin / Szakcsi – Budapest / Jane Xie – Shanghai / John Helliwell – Supertramp – Liverpool / Steve Bailey – Boston
Al Di Meola – New York / Peter Maffay – Lake Starnberg / Cory Henry – Los Angeles / Randy Brecker – Long Island/New York
Jesse Siebenberg – Supertramp – San Francisco / Deobrat Mishra – Delhi / Mike Stern – New York / Margarita – Moskau
Richard Bona – Miami / New York / Bill Evans – Nashville / Sirreal – Beijing / Moto Fukushima – Tokyo
Tony Carey – Los Angeles / Julia Mandoki – Amsterdam
MANDOKI SOULMATES Online: 
www.mandoki-soulmates.com
https://utopiaforrealists.mandoki-soulmates.com
www.facebook.com/mandoki.soulmates
www.instagram.com/themandokisoulmates
https://www.youtube.com/c/MandokiSoulmates