Continuando l'impavida esplorazione dei confini del proprio leggendario sound, i pionieri del grindcore NAPALM DEATH annunciano oggi l'uscita di un nuovo mini-album intitolato "Resentment is Always Seismic – a final throw of Throes", in uscita l'11 febbraio 2022 tramite Century Media Records. 
Il commento del cantante Mark "Barney" Greenway, attualmente in tour in Nord America con la band:
"Potete considerare 'Resentment Is Always…' come un'estensione di o una registrazione complementare dell'album 'Throes…'. Da tempo volevamo pubblicare un mini-album, come ai vecchi tempi, e abbiamo scoperto di avere abbastanza brani di qualità per farlo anche dopo tutte le bonus track di 'Throes…'."
Il primo assaggio del nuovo mini-album è dato da "Narcissus", primo singolo estratto disponibile a questo link: https://youtu.be/qI8TS-hXF-8 
"Resentment is Always Seismic – a final throw of Throes" conterrà 29 minuti di musica inedita e sarà disponibile nei formati Ltd. CD Digipak, vinile e in digitale. Disponibile da oggi il preorder: https://napalmdeath.lnk.to/ResentmentIsAlwaysSeismic-AFinalThrowOfThroes
Di seguito artwork e tracklist: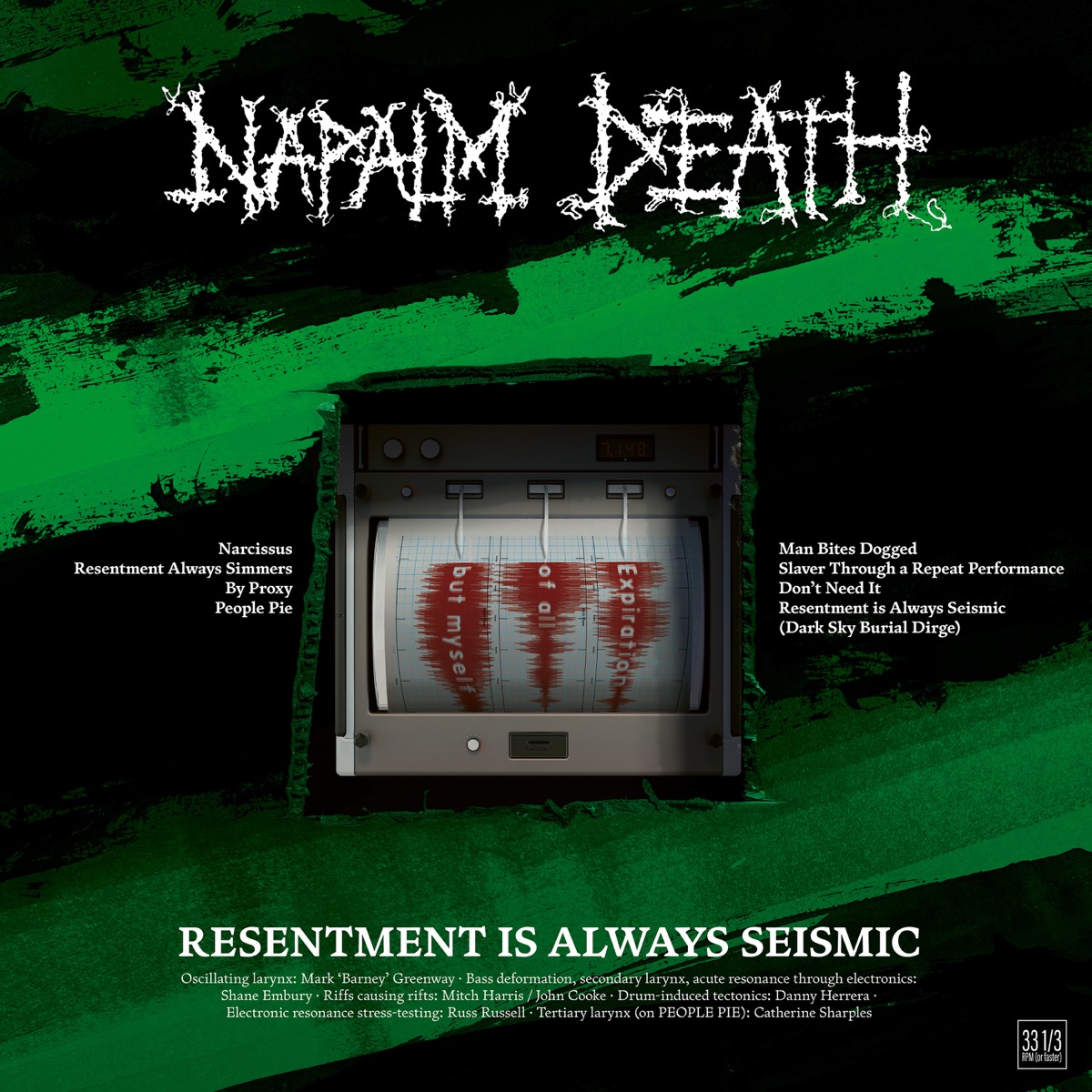 1. Narcissus
2. Resentment Always Simmers
3. By Proxy
4. People Pie (Slab! Cover version)
5. Man Bites Dogged
6. Slaver Through a Repeat Performance
7. Don't Need It (Bad Brains cover version)
8. Resentment is Always Seismic (Dark Sky Burial Dirge)
Il formato vinile sarà disponibile nelle seguenti limitazioni: 
Black LP – unlimited
Transp. Red LP – 1500x copies via CM Distro & Webshop Europe & all US outlets
Clear LP – 300x copies Nuclear Blast
Silver LP – 300x copies via EMP
Transp. Green LP – 500x copies via Napalm Death
 
---
NAPALM DEATH are currently wrapping up a comprehensive tour across North America with Gwar and Century Media Records labelmates EyeHateGod. Here are all upcoming NAPALM DEATH live-shows announced so far:
GWAR, NAPALM DEATH & EYEHATEGOD:
Fri 10.12.2021 Lincoln, NE – Bourbon Theatre
Sat 11.12.2021 Sauget, IL – Pop's
Mon 13.12.2021 Washington, DC – 9:30 Club
Tue 14.12.2021 New York, NY – Irving Plaza
NAPALM DEATH, DOOM, SIBERIAN MEAT GRINDER, SHOW ME THE BODY 
"Campaign For Musical Destruction" European Tour 2022
03.02.2022 Magdeburg (Germany) – Factory
04.02.2022 Wrocław (Poland) – Concert Center A2
05.02.2022 Budapest (Hungary) – A38
06.02.2022 Wien (Austria) – Arena
07.02.2022 München (Germany) – Backstage
09.02.2022 Manchester (UK) – Club Academy
10.02.2022 Glasgow (UK) – Classic Grand
11.02.2022 Buckley (UK) – The Tivoli
12.02.2022 Birmingham (UK) – Hammerfest
13.02.2022 London (UK) – Electric Ballroom
15.02.2022 Paris (France) – La Machine Du Moulin Rouge
16.02.2022 Besançon (France) – La Rodia 
17.02.2022 Marseille (France) – Le Jas Rod
18.02.2022 Biarritz (France) – Atabal
19.02.2022 Mérignac (France) – Krakato
22.02.2022 Paderno Dugnano (Italy) – Slaughter Club
23.02.2022 Nürnberg (Gerrmany) – Z-Bau
24.02.2022 Brno (Czech Republic) – Sonor
25.02.2022 Leipzig (Germany) – Werk 2
26.02.2022 Herford (Germany) – X-Herford
27.02.2022 Utrecht (The Netherlands) – Tivoli
01.03.2022 Hamburg (Germany) – Gruenspan
02.03.2022 Oberhausen (Germany) – Turbinenhalle
03.03.2022 Lindau (Germany) – Club Vaudeville
04.03.2022 Mannheim (Germany) – Alte Feuerwache
05.03.2022 Berlin (Germany) – Astra
06.03.2022 Eindhoven (The Netherlands) – Dynamo
NAPALM DEATH – Live 2022:
26.06.2022 Clisson (France) – Hellfest Open Air
16.07.2022 Dortmund (Germany) – Tombstoned Fest Open Air
05.08.2022 Steenwijkerwold (The Netherlands) – Dicky Woodstock
06.08.2022 Saint-Maurice-de-Gourdans (France) – Sylak Festival
17-20.08.2022 Dinkelsbühl (Germany) – Summer Breeze Open Air 
09-11.09.2022 Aleksandrów Łódzki (Poland) – Summer Dying Loud
And many more shows to be announced soon…
""Narcissus" just seemed to fit the bill as one of those rampaging tracks that we always seem to gravitate towards as an album opener. The low-slung concrete mixer bassline at the start really ushers it in nicely. It was written at a time when the 'alt-right' was parading itself around, so lyrically I like to think it exposes the vanity and personality cult of that whole thing.", added Greenway. 
NAPALM DEATH's latest and much lauded 16th studio album "Throes of Joy in the Jaws of Defeatism" (2020), which was recorded with longtime producer Russ Russell and features artwork by Frode Sylthe, entered international sales charts upon release as follows: Germany: # 18, Austria: # 37, Switzerland: # 26, Finland: # 35, Belgium: # 88, Spain: # 78, France: # 120, UK (Rock Chart): # 3 and USA: # 58 Billboard Top Albums.
Check out the singles/videos that NAPALM DEATH released for the "Throes of Joy…" album here:
"Backlash Just Because": https://youtu.be/FFDHuCeaM_Y
"Amoral": https://youtu.be/T5ChaOiPZGo 
"A Bellyful of Salt and Spleen": https://www.youtube.com/watch?v=TLKjpobj4vg 
"Contagion": https://youtu.be/RCKYm2Gw8JA 
You can still order "Throes of Joy in the Jaws of Defeatism" in various formats here: https://napalmdeath.lnk.to/ThroesofJoyintheJawsofDefeatismPR
Stay tuned for further NAPALM DEATH news coming soon…
NAPALM DEATH online:
http://www.napalmdeath.org 
http://www.facebook.com/officialnapalmdeath 
https://twitter.com/officialND 
https://www.instagram.com/theofficialnapalmdeath