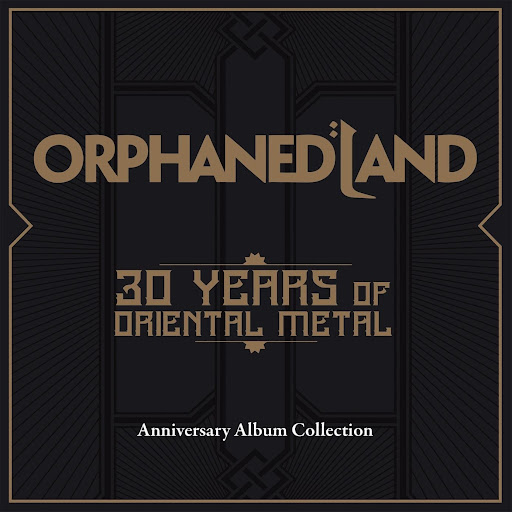 Gli ORPHANED LAND celebrano il loro 30esimo anniversario. Tre decenni di creazione di musica, di spettacoli dal vivo in tutto il mondo e a diffondere il messaggio di pace. 
Per questa occasione molto speciale la band pubblicherà una raccolta in formato Ltd. CD box set formato da 8 CD con 6 album completi e una raccolta di canzoni bonus degli ultimi 30 anni su due CD extra. Incluso inoltre un libretto di 112 pagine con note di copertina per ogni album, curato dal cantante Kobi Farhi.
Il commento dello stesso Kobi, orgoglioso e felice di questo speciale anniversario:
"Wow… sono già passati 30 anni incredibili! Guardando indietro ci sentiamo così orgogliosi di esser riusciti ad estendere la scena metal dalle ben note scene americane, sudamericane, europee e scandinave, l'abbiamo allargata quando abbiamo dato vita al genere 'Oriental Metal' e introdotto il metal dal Medio Oriente al resto del mondo. Dal 1991. 
Brindiamo ai prossimi 30 anni!"
Artisti di fama mondiale hanno commentato nel corso degli anni il lavoro degli Orphaned Land:
Kirk Hammett (Metallica) 
"Gli Orphaned Land stanno parlando dei problemi in Medio Oriente e mi piace molto quello che stanno facendo!"
Ozzy Osbourne
"Il miglior gruppo hard rock uscito dal Medio Oriente"
Steven Wilson (Porcupine Tree)
"Una delle migliori band metal non solo in Israele ma in tutto il mondo"
Steve Hackett (Genesis)
"Gli Orphaned Land combinano la qualità dell'opera e della world music con la sensibilità del rock"
Hansi Kürsch (Blind Guardian)
"Ciò che mi rende così entusiasta è questa perfetta miscela di culture musicali diverse e il costante flusso di emozioni che questi ragazzi sono riusciti a intrecciare, in un colpo di genio. Tutto il loro lavoro è una forte dichiarazione per l'umanità"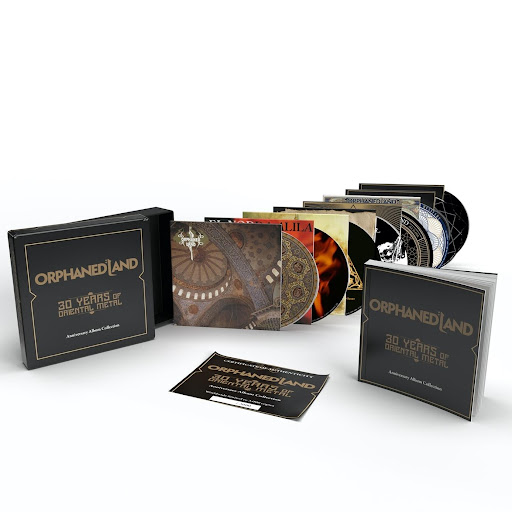 "30 Years Of Oriental Metal" sarà pubblicato su Century Media Records il 10 dicembre 2021 in versione Ltd. 8CD Box Set con certificato di autenticità numerato a mano ed è già disponibile per il preorder a questo link: https://orphanedland.lnk.to/30YearsOfOrientalMetal as of now. 
Gli Orphaned Land saranno a breve in tour in Europa, di seguito tutte le date tra cui tre su suolo italico:
ORPHANED LAND live:
09.03 Essen (Germany) – Turock 
10.03 Antwerpen (Belgium) – Zappa 
11.03 Zoetermeer (Netherlands) – Boerderij 
12.03 Arnhem (Netherlands) – Willemeen 
13.03 London (United Kingdom) – Underworld 
15.03 Nantes (France) – Ferrailleur 
17.03 Pamplona (Spain) – Totem 
18.03 Leiria (Portugal) – Stereogun 
19.03 Lisboa (Portugal) – Ao Viva 
20.03 Madrid (Spain) – Copérnico 
22.03 Barcelona (Spain) – Bóveda 
24.03 Milano (Italy) – Legend Club 
25.03 Roma (Italy) – Traffic Club 
26.03 San Dona (Italy) – Revolver Club 
28.03 Praha (Czech Republic) – Nova Chlemic 
29.03 Bratislava (Slovakia) – Randal Club 
31.03 Poznan (Poland) – U Bazyla 
01.04 Berlin (Germany) – Gretchen 
02.04 Köln (Germany) – Helios 37 
03.04 München (Germany) – Backstage 
05.04 Colmar (France) – Le Grillen 
07.04 Paris (France) – petit Bain 
08.04 Lyon (France) – Ninkasi Kao 
09.04 Orbe (Switzerland) – Le Puisoir 
10.04 Reichenbach (Germany) – ARTrock fest 
11.04 Frankfurt (Germany) – Zoom 
13.04 Osnabrück (Germany) – Bastard club 
14.04 Hamburg (Germany) – Logo 
15.04 Kobenhavn (Denmark) – Stengade 
16.04 Weinheim (Germany) – Café Central 
17.04 Ubach Palenberg (Germany) – Rock Fabrik 
ORPHANED LAND are:
Kobi Farhi – Vocals 
Chen Balbus – Guitars 
Idan Amsalem – Guitars 
Uri Zelcha Bass – 
Matan Shmuely – Drums
ORPHANED LAND online:
http://www.orphaned-land.com/  
https://www.facebook.com/OrphanedLandOfficial 
https://twitter.com/orphanedland 
https://www.instagram.com/orphaned_land_official/