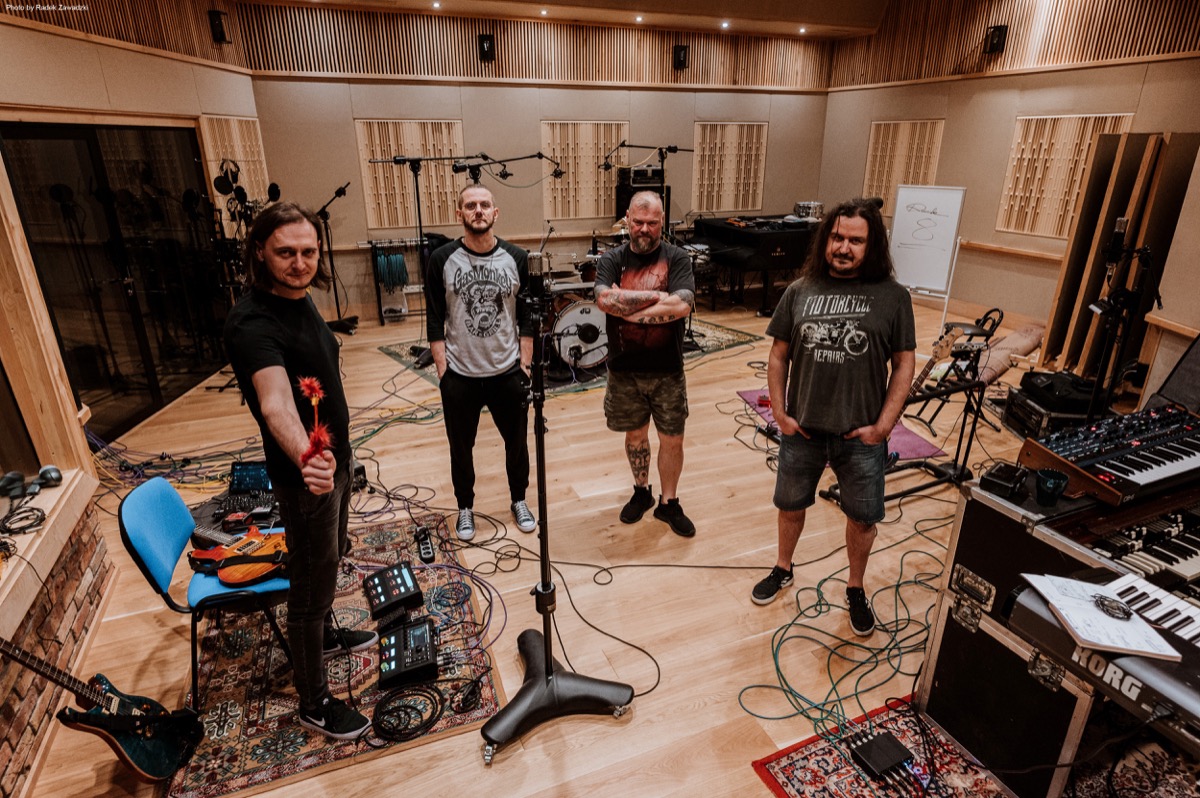 Grandi notizie dai polacchi RIVERSIDE, che sono entrati in studio per iniziare la sessione di registrazione del loro prossimo album e seguito dell'acclamato "Wasteland" del 2018. 
Il commento della band:
"I Riverside iniziano a registrare il nuovo album!
Eccoci qui. Dopo quasi quattro anni dall'uscita di 'Wasteland' siamo finalmente tornati in studio per registrare il nostro ottavo album. Questa volta il materiale sarà registrato in due studi di registrazione, The Boogie Town Studio a Otwock e Studio Serakos a Varsavia.
Il nuovo materiale (che è per lo più già pronto), per il titolo e il soggetto, conterrà tutte le caratteristiche dello stile Riverside, probabilmente il più pesante mai registrato dai tempi di 'Anno Domini High Definition'.
Seguiteci sulle nostre pagine social per ulteriori informazioni sul processo di registrazione della nostra nuova release. Probabilmente suoneremo qualcosa durante il tour europeo 'Riverside 20' di settembre.
La data di uscita dell'ottavo album dei Riverside è prevista per gennaio"
I RIVERSIDE continuano la celebrazione del loro ventesimo anniversario. Di seguito tutte le date del tour europeo "Riverside 20":
RIVERSIDE – Live 2022:
27.08.2022 Rzeszów (Poland) – Rockowa Noc
RIVERSIDE – 20th Anniversary European Tour 2022
03.09.2022 Prague (Czech Republic) – Futurum
05.09.2022 Bucharest (Romania) – Quantic Club
06.09.2022 Cluj-Napoca (Romania) – /Form Space
07.09.2022 Budapest (Hungary) – Barba Negra
09.09.2022 Milano (Italy) – Live Club
10.09.2022 Karlsruhe (Germany) – Substage11.09.2022 Paris (France) – La Machine
13.09.2022 Antwerpen (Belgium) – Kavka
14.09.2022 Amsterdam (The Netherlands) – Melkweg
15.09.2022 Cologne (Germany) – Die Kantine
16.09.2022 Weert (The Netherlands) – De Bosuil
17.09.2022 Aarhus (Denmark) – Train
18.09.2022 Hamburg (Germany) – Docks
20.09.2022 Berlin (Germany) – Huxleys Neue Welt
22.09.2022 Gdynia (Poland) – Gdynia Arena
23.09.2022 Łódź (Poland) – Klub Wytwórnia
24.09.2022 Poznań (Poland) – B17
25.09.2022 Gliwice (Poland) – Arena Gliwice
Informazioni sui biglietti per tutti gli show sono disponibili qui: https://riversideband.pl/en/gigs/ 
 
---
RIVERSIDE have previously released a special Digital Single entitled "Story of My Dream" to enhance their 20th anniversary celebration. This brand-new track was recorded and mixed at The Boogie Town Studio in Otwock, Poland during two days in July and five days in September 2021, engineered and mixed by Paweł Marciniak as 
well as mastered by Paweł Marciniak at Manximum Records in Łódź, Poland. 
The "Story of My Dream" single features artwork by Travis Smith (Opeth, Katatonia, etc.) and can also be checked out in a video clip directed by Tomasz Pulsakowski / Sightsphere here: 
https://youtu.be/-s7fedFOP88
Additionally, RIVERSIDE also released two digital "best of" compilations via to showcase the comprehensive and rich back-catalogue from across the last two decades of band activity. Featuring material all especially remastered by Magda and Robert Srzedniccy (Serakos Studio) for this occasion, "Riverside 20 – Vol.1, The Shorts" includes 19 tracks and "Riverside 20 – Vol.2, The Longs" includes 14 songs.
Both individual "Riverside 20" compilations as well as a bundle are available here: https://riverside.lnk.to/Riverside20
RIVERSIDE previously also re-issued their debut album "Out Of Myself" as well as the "Lost'n'Found – Live in Tilburg" release via InsideOutMusic, following the launch of their acclaimed latest studio album "Wasteland" in 2018. Check out the various available back-catalogue titles by RIVERSIDE from the IOM webshop here: https://www.insideoutshop.de/Search?q=riverside
Look out for more RIVERSIDE news coming soon…
RIVERSIDE line-up:
Mariusz Duda – bass, vocals
Maciej Meller – guitar
Michał Łapaj – keyboards and hammond organ
Piotr Kozieradzki – drums
RIVERSIDE online:
http://www.riversideband.pl
http://www.facebook.com/Riversidepl
https://www.instagram.com/riversideband.pl