I danesi SLAEGT (a.k.a. Slægt, che significa "lignaggio" / "patrimonio" in lingua danese e pronunciato /slɛɡt/) sono lieti di annunciare tutti i dettagli e il preorder del loro prossimo e quarto album "Goddess", previsto in uscita il 18 marzo 2022 su Century Media Records.
"Goddess" è stato registrato e mixato da Martin 'Konie' Ehrencrona (Refused, In Solitude, Viagra Boys, Tribulation) presso gli Studio Cobra e masterizzato da Magnus Lindberg (The Hellacopters, Cult of Luna, Dool) presso i Redmount Studios, entrambi a Stoccolma, Svezia. L'album mette in mostra il lavoro più elaborato e intricato di Slaegt attraverso 6 canzoni e 40 minuti di nuova musica.
Di seguito la copertina creata da Dávid Glomba (Svartidaudi, Cult Of Fire, Malokarpatan) e la tracklist dell'album: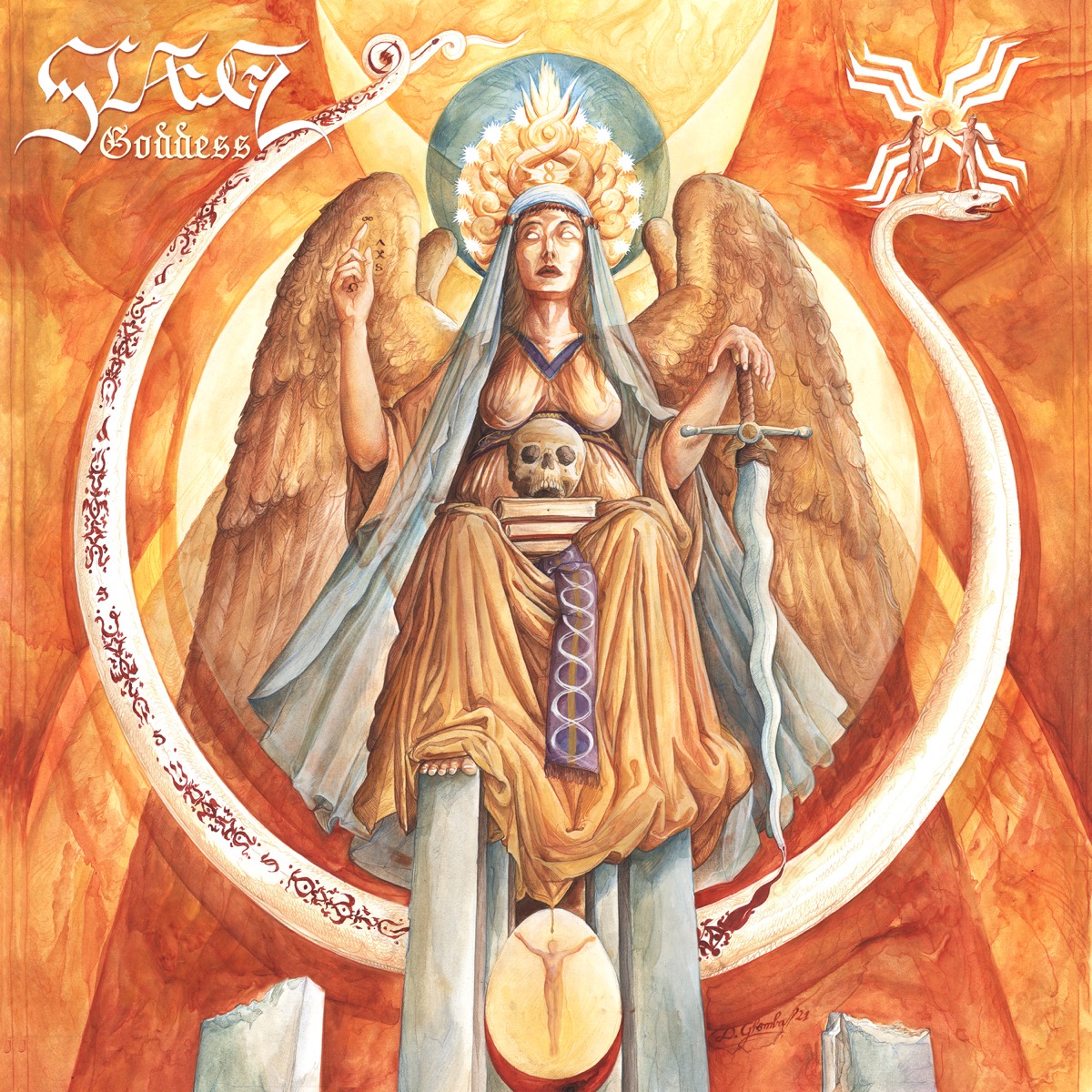 1. Deceived by an Amethyst
2. Kiss from a Knife
3. Hunt Again
4. Fealty, Thunder Whip
5. Stabat Bloody Stabat
6. Goddess 
Disponibile da oggi anche un primo estratto dell'album con il primo singolo "Fealty, Thunder Whip", guarda il videoclip a questo link: https://youtu.be/edEbF6cEuow 
Il commento della band: 
"'Fealty, Thunder Whip' è una canzone con testi che parlano di un desiderio implacabile di dimostrare qualcosa, non importa il prezzo o le conseguenze, abbinato ad un alto tasso di ottani ed heavy metal, in perfetto stile SLAEGT!"
"Goddess" sarà pubblicato nei formati limited edition CD-Digipak (solo per la prima stampa), Gatefold LP con poster e digitale. Di seguito tutte le varianti del formato vinile:
Gatefold black LP & Poster: Unlimited
Gatefold red LP & Poster: 300x via CM Distro & Webshop
Gatefold silver LP & Poster: 300x via Ván Records
Gatefold clear LP & Poster: 300x via EMP & Nuclear Blast 
Gatefold golden LP & Poster: 300x via Slaegt on tour
Preordina "Goddess" a questo link: https://Slaegt.lnk.to/Goddess 
 
---
Slaegt checked in with the following comment about "Goddess": ""We are extremely excited and proud to be able to announce our new full-length album "Goddess"! Consisting of six tracks with a total run-time of 40 minutes this is without a doubt our most accomplished work to date. We have been more detailed and thorough than ever in regards to composition, lyrics, and production while still maintaining darkness and high energy in the execution. We have been as experimental as ever and have tried to push ourselves and our music to the limit in every single way regarding the creation of this album. Words cannot describe how much we are looking forward to sharing this collection of songs with all our listeners. 
For the recording of "Goddess" we joined forces with legendary mastermind-producer Martin "Konie" Ehrencrona and traveled to Stockholm to record every single sound appearing on the record in Studio Cobra. It took ten intense days of non-stop work, far away from home, to create "Goddess" and we are very satisfied with the result. The artwork of the album has been created by the illustrious Dávid Glomba. We were super excited when Dávid responded to our wish for him to work with us and we think that he has done an absolutely outstanding job to fulfill our visual ideas and concepts for this release. We have admired his work for a long time, so it brings us much pleasure to know, that he has also worked with us now. "Goddess" will be unleashed through Century Media on March the 18th, 2022. Get ready!"
Previously, Slaegt have announced a first European tour in support of "Goddess" together with fellow Danish group Demon Head. These are the exact dates:
Slaegt + Demon Head – "Nine Black Torches" European Tour 2022
31.03.2022 Copenhagen (Denmark) – Stairway
01.04.2022 Weimar (Germany) – Kasseturm
02.04.2022 Abtenau (Austria) – Neudegg Alm w/ Grave Miasma, The Ruins of Beverast, etc.
03.04.2022 Dresden (Germany) – Chemiefabrik
04.04.2022 Dortmund (Germany) – Junkyard
05.04.2022 Rotterdam (The Netherlands) – Baroeg
06.04.2022 Antwerp (Belgium) – Het Bos
07.04.2022 Paris (France) – Glazart
08.04.2022 Winterthur (Switzerland) – Gaswerk
09.04.2022 Ljubljana (Slovenia) – Klub Gromka
10.04.2022 Zagreb (Croatia) – Močvara
11.04.2022 Budapest (Hungary) – Robot
12.04.2022 Vienna (Austria) – Arena
13.04.2022 Prague (Czechia) – Underdogs
14.04.2022 Berlin (Germany) – Urban Spree
15.04.2022 Malmö (Sweden) – Plan B
16.04.2022 Gothenburg (Sweden) – The Abyss
17.04.2022 Stockholm (Sweden) – Hus 7
Tour info: http://www.killtownbookings.com/ 
Other Slaegt appearances in 2022 are as follows:
SLAEGT – Live 2022:
22.-24.09.2022 Auzas (France) – L'Homme Sauvage Festival
More dates to be announced soon…
Slaegt biography: Starting out as a one-man Black Metal project in 2011, Slaegt has grown into a four-piece and developed a signature sound of their own, combining well-known styles with influences from beyond the sphere of hard rock and heavy metal. Slaegt comment: "Amalgamation leads to the redefinition of genres. At our core, we draw from a wide range of genres, styles, and time periods and we combine them in a way that speaks to us deeply. We have many shades on our palette, both light and dark. These are, as in life, interwoven and become ever-changing constants." With three albums and several EP's to their name so far as well as over 150 concerts under their belt, including three European tours and appearances at major festivals like Copenhell, Roadburn, Party.San and Roskilde, Slaegt have built a strong following, achieved critical acclaim both at home and internationally, consequently ranking as most vital and exciting bands to come out of the Scandinavian Metal scene in recent years. Look out for "Goddess" to take things to a next level for Slaegt…
SLAEGT line-up:
(bottom photo by Adriana Zak)
Adam "Ccsquele" Nielsen – Drums
Anders M. Jørgensen – Guitar
Olle Bergholz – Bass Guitar & Backing Vocals
Oskar J. Frederiksen – Lead Vocals & Guitar
SLAEGT discography:
Ildsvanger – 2015
Beautiful And Damned – EP 2015
Domus Mysterium – 2017
The Wheel – 2018
Black Bombs – EP 2019
Goddess – 2022
SLAEGT online:
https://www.facebook.com/slaegt/ 
https://www.instagram.com/slaegt_official