L'iconico chitarrista STEVE HACKETT pubblicherà il suo nuovo album solista "Surrender Of Silence" il 10 settembre 2021 su Inside Out Music. L'album contiene 11 nuove canzoni alle quali Steve ha lavorato duramente durante il lockdown. Per la prima volta l'ex-Genesis ha pubblicato due album nel corso dello stesso anno!
Oggi l'artista presenta il secondo singolo estratto "Fox's Tango", accompagnato da un visualizer video: https://youtu.be/H3syJOPqdC4 
Il commento di Steve Hackett:
"Una canzone di protesta alle disuguaglianze della vita – in altre parole, i poveri contro i ricchi. Con i conflitti attuali, se non impariamo a condividere la terra, ci ritroveremo a condividere i cimiteri. Una canzone per un mondo non più in equilibrio."
Disponibile anche il precedente singolo "Wingbeats": https://youtu.be/-8qOFpMaRLo
 
"Surrender Of Silence" sarà pubblicato il 10 settembre 2021 nei formati Limited Edition CD+Blu-ray Mediabook con copertina rigida, Standard CD Jewel case, Gatefold 2LP+CD con booklet formato LP e in digitale. Disponibile il preorder a questo link: https://stevehackett.lnk.to/SurrenderOfSilence
Di seguito artwork e tracklist di "Surrender Of Silence":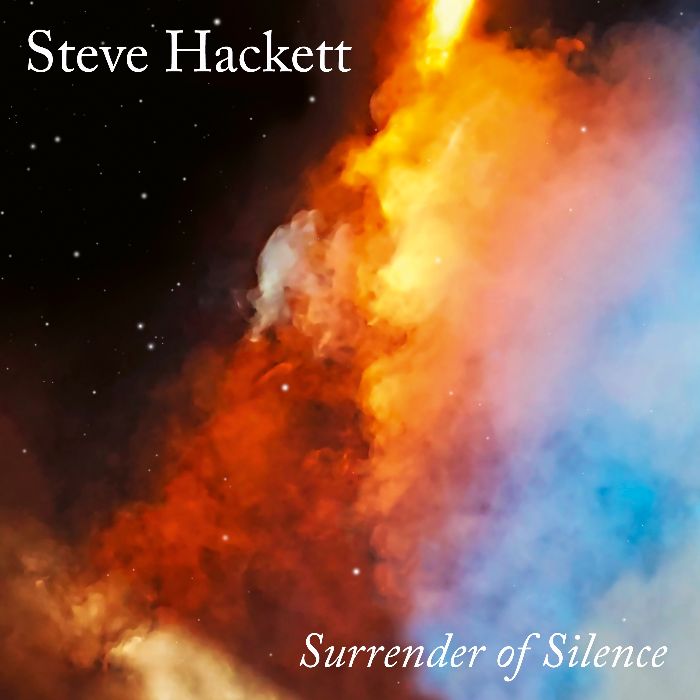 1.    The Obliterati (02:17)
2.    Natalia (06:17)
3.    Relaxation Music For Sharks (Featuring Feeding Frenzy) (04:36)
4.    Wingbeats (05:20)
5.    The Devil's Cathedral (06:31)
6.    Held In The Shadows (06:20)
7.    Shanghai To Samarkand (08:27)
8.    Fox's Tango (04:21)
9.    Day Of The Dead (06:25)
10.    Scorched Earth (06:03)
11.    Esperanza (01:04)
I brani sono stati composti da Steve e Jo Hackett e Roger King. Tutti i brani sono stati registrati da Roger King e prodotti da Steve Hackett e lo stesso King presso i Siren Studios.
Sulla scia del suo viaggio classico-acustico "Under A Mediterranean Sky", che è stato pubblicato a gennaio e ha raggiunto la posizione #2 nella Classical Album Chart del Regno Unito, "Surrender of Silence" è un'ulteriore esplorazione dell'amore di Hackett per la world music, scoprendo diversi suoni, mood e texture per realizzare un album rock di straordinaria varietà, potenza e bellezza.
Così come il precedente album, "Surrender of Silence" è stato registrato durante il lockdown e ancora una volta Hackett si è circondato di amici musicisti. In aggiunta alla touring band di Hackett formata da Roger King (tastiere, programming e arrangiamenti orchestrali), Rob Townsend (sax, clarinetto), Jonas Reingold (basso), Nad Sylvan (voci) e Craig Blundell (batteria) vede la partecipazione dei batteristi Phil Ehart e Nick D'Virgilio, le voci di Amanda Lehmann, Durga e Lorelei McBroom, Christine Townsend (violino, viola), Malik Mansurov (tar) e Sodirkhon Ubaidulloev (dutar).
Il commento di Steve Hackett:
"Le ragnatele del Lockdown sono state spazzate via in un colpo solo! Con la sezione ritmica mostruosa di Jonas, Craig, Nick e Phil insieme al sax e al clarinetto basso di Rob, Nad, Amanda ed io alla voce, l'organo oscuro e potente di Roger e la mia chitarra, ci immergiamo completamente in un selvaggio vortice di energia"
Il nostro viaggio ci porta dalle orchestrazioni classiche della Russia ("Natalia") alle pianure dell'Africa ("Wingbeats") fino alle misteriose coste orientali ("Shanghai To Samarkand"), tutte attraverso le profondità dell'oceano ("Relaxation Music For Sharks (Featuring Feeding Frenzy)"). "The Devil's Cathedral" unisce i talenti dell'intera band, facendo risaltare l'organo di King e l'incredibile esibizione ritmica di Blundell e Reingold.
Inoltre la voce di Hackett duetta con l'incredibile Amanda Lehmann sul brano "Scorched Earth", un lamento per gli orrori ambientali che il nostro pianeta sta affrontando.
 
---
"It's a 'no holds barred' album," adds Hackett, "riding that wave, unleashing those demons, dreams and nightmares, all crashing together over the shore.
"I enjoyed the power of this album allowing my guitar to scream in joy and rage… and once again flying across those oceans to distant lands. It's terrific to connect creatively with musicians from far flung places, particularly when we've all been unable to meet. We all have a voice in our cacophony of sound and we cry out together in the Surrender of Silence!"
About Steve Hackett:
Steve Hackett joined Genesis at the beginning of 1971 and gained an international reputation as the guitarist in the band's classic line-up alongside Peter Gabriel, Tony Banks, Mike Rutherford and Phil Collins. Hackett's intricate guitar work was a key element of Genesis' albums from Nursery Cryme (1971) to Wind And Wuthering (1977) including the classic Selling England By The Pound.
After leaving Genesis at the end of 1977, Hackett's solo career, which now spans more than 30 albums, has demonstrated his extraordinary versatility with both electric and acoustic guitar. Hackett is renowned as both an immensely talented and innovative rock musician and a virtuoso classical guitarist and composer and this was recognised in 2010 when he was inducted into the Rock Hall Of Fame. He has also worked alongside Steve Howe of YES in the supergroup GTR.
Hackett's compositions take influences from many genres, including jazz, classical and blues. For his later studio works The Night Siren (2017) and At The Edge Of Light (2019) Hackett has explored the influences of world music. Recent tours have seen Hackett celebrate his time with Genesis
including a spectacular 2018 tour in which he realised a long-held ambition to perform the works of Genesis live with his band and an orchestra.
The lockdown enforced by the 2020 global pandemic has proven to be a particularly creative period for Hackett. He began by releasing Selling England by the Pound & Spectral Mornings: Live at Hammersmith, a live recording of 2019's hugely successful tour celebrating that Genesis classic together with the 40th anniversary of one of his most-loved solo albums. Lockdown also gave Hackett the opportunity to write and record two new studio albums, the UK Classical Chart hit Under A Mediterranean Sky and the forthcoming Surrender of Silence.
STEVE HACKETT Online:
www.hackettsongs.com
www.facebook.com/pages/Steve-Hackett/123101228589
www.twitter.com/HackettOfficial
http://hackettsongs.com/tour.html