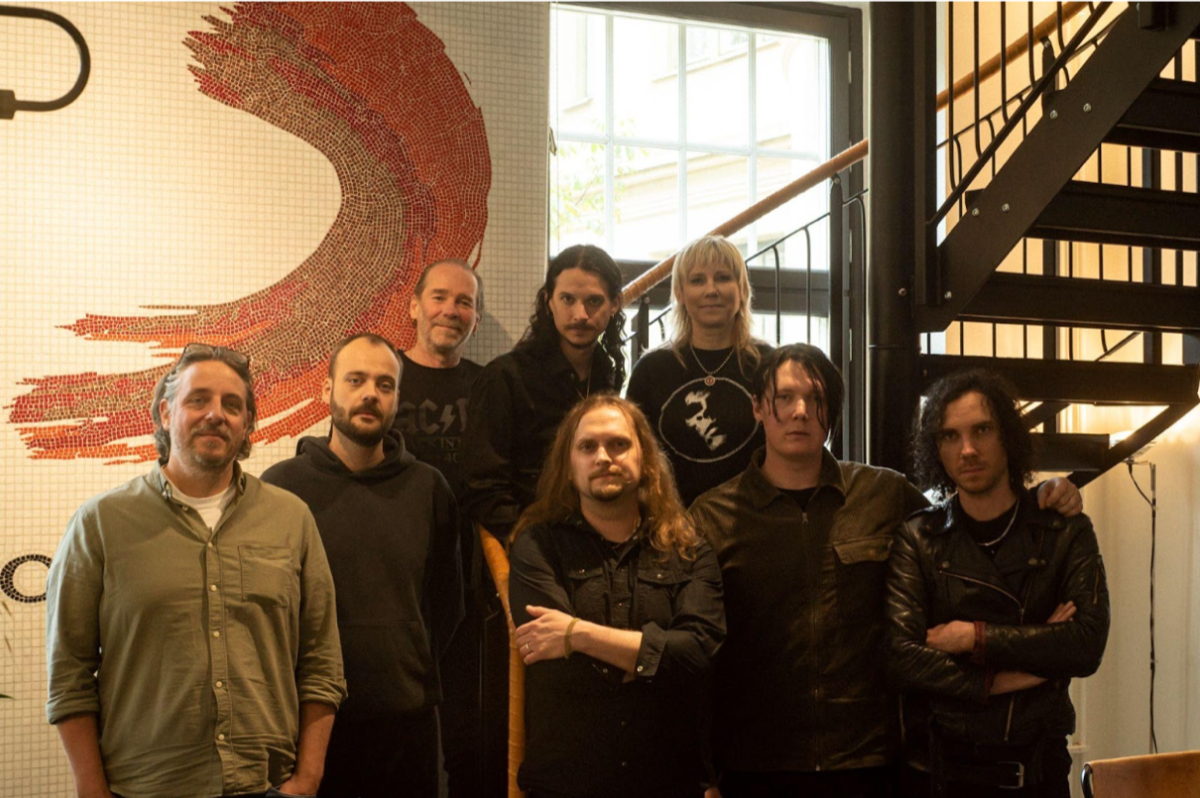 From left to right: Philipp Schulte (Century Media / Director), Niklas Tschaikowsky (Century Media / Product Manager), Classe Brewitz (Sony Music Sweden), Adam Zaars (Tribulation / Guitars), Johannes Andersson (Tribulation / Vocals & Bass), Jenny Walroth (Tribulation PR Agent Sweden), Oscar Leander (Tribulation / Drums), Joseph Tholl (Tribulation / Guitars)
I TRIBULATION, una delle band più stimate del panorama metal svedese degli ultimi anni, hanno esteso la loro collaborazione con la loro etichetta discografica Century Media Records a livello globale. Il quartetto è già al lavoro a nuovo materiale e nuove registrazioni.
Oltre a questo i TRIBULATION hanno recentemente vito gli svedesi Grammy Awards nella categoria Best Rock/Metal Album, grazie al loro ultimo full length "Where The Gloom Becomes Sound". Fra gli altri gruppi nominati nella stessa categoria troviamo At The Gates, Lucifer, The Night Flight Orchestra e Nestor. Questo è il secondo prestigioso Grammy vinto dalla band svedese, dopo il primo vinto col precedente album "Down Below" del 2018.
Il commento del chitarrista e membro fondatore Adam Zaars:
"Dopo questa pausa involontaria, questo intoppo sociale e culturale globale, stiamo per tornare sul palco e, come già annunciato, abbiamo già iniziato il prossimo capitolo. Ad oggi abbiamo alcune nuove canzoni registrate che saranno pubblicate digitalmente entro la fine dell'anno e su vinile appena possibile. È sicuramente un sound riconoscibile alla Tribulation, ma in un nuovo sudario con nuovi sapori e odori. Più incazzato, più scuro e un po' più cinico. Abbiamo anche iniziato lentamente a lavorare sul nostro prossimo album che pubblicheremo ancora una volta con i nostri partner di lunga data di Century Media Records, con i quali abbiamo ora firmato un accordo in tutto il mondo. Cercate di venire a vederci on stage questa estate!"
Il commento del direttore di Century Media Philipp Schulte:
"Siamo felici di estendere la nostra collaborazione con Tribulation. Band ed etichetta hanno già fatto molta strada insieme. Non vediamo l'ora di continuare queta avventura come casa discografica mondiale della band!"
 
---
Check out TRIBULATION's most recently released 18-minute opus 'The Dhampir', which has previously only been available in full length as a bonus track on the Deluxe Vinyl Version of the band's critically acclaimed album 'Where the Gloom Becomes Sound'.
LISTEN TO "THE DHAMPIR"
Other previously released singles/videos off 'Where the Gloom Becomes Sound':
"LEVIATHANS"
"HOUR OF THE WOLF"
"FUNERAL PYRE"
"Where the Gloom Becomes Sound" can be purchased in its various formats HERE.
TRIBULATION – Live 2022:
28.05.2022 Hollandscheveld (The Netherlands) – Graveland Festival
03.06.2022 Gdansk (Poland) – Mystic Festival 
18.06.2022 Dessel (Belgium) – Graspop Metal Meeting
23.06.2022 Clisson (France) – Hellfest 
24.06.2022 Oslo (Norway) – Tons Of Tock Festival
15.07.2022 Gävle (Sweden) – Gefle Metal Festival
04.-06.08.2022 Wacken (Germany) – Wacken Open Air
06.08.2022 Bergen (Norway) – Beyond The Gates Festival
19.-21.08.2022 Las Vegas (USA) – Psycho Las Vegas
24.08.2022 Los Angeles (USA) – Catch One
25.08.2022 San Diego (USA) – Brick by Brick
02.09.2022 León City (Mexico) – Candelabrum Festival
04.09.2022 Sao Paulo (Brazil) – Setembro Negro Festival 
CHARIOTS OF FIRE EUROPEAN TOUR 2022 
WATAIN | ABBATH | Co-Headliner 
TRIBULATION | BÖLZER | Special Guests 
15.09.2022 Paris (France) – Elysee Montmartre 
16.09.2022 Oberhausen (Germany) – Turbinenhalle 
17.09.2022 Munich (Germany) – Backstage  
18.09.2022 Milan (Italy) – Live Club 
20.09.2022 Toulouse (France) – Le Bikini  
22.09.2022 Lisbon (Portugal) – Lisboa Ao Vivo 
23.09.2022 Madrid (Spain) – La Riviera 
24.09.2022 Barcelona (Spain) – Apolo  
25.09.2022 Lyon (France) – Transbordeur  
27.09.2022 Zurich (Switzerland) – Komplex 457 
28.09.2022 Filderstadt (Germany) – Filharmonie 
29.09.2022 Tilburg (The Netherlands) – 013  
30.09.2022 London (UK) – Earth 
02.10.2022 Antwerp (Belgium) – Trix 
04.10.2022 Hamburg (Germany) – Markthalle  
05.10.2022 Copenhagen (Denmark) – Amager Bio 
06.10.2022 Oslo (Norway) – Rockefeller 
07.10.2022 Stockholm (Sweden) – Fallan 
09.10.2022 Helsinki (Finland) – Vanha
TRIBULATION is:
Johannes Andersson – vocals, bass
Adam Zaars – guitars
Joseph Tholl – guitars
Oscar Leander – drums
TRIBULATION online:
https://www.tribulation.se/
https://www.facebook.com/TribulationSweden/
https://www.instagram.com/tribulation_official/