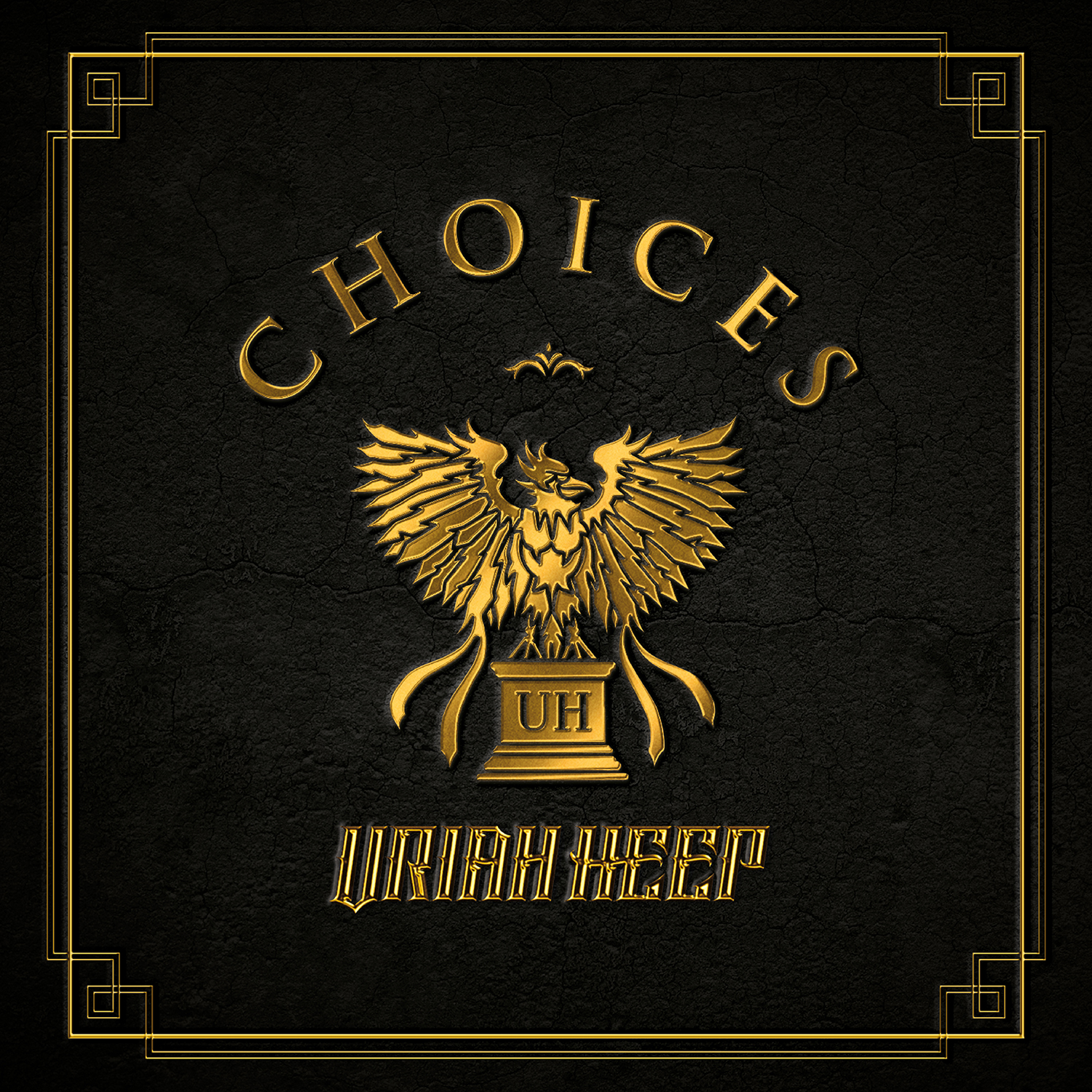 Il 24 settembre 2021 BMG pubblicherà "Choices", una nuova raccolta degli URIAH HEEP.
La raccolta è stata creata con la piena collaborazione degli stessi Uriah Heep e curata dal chitarrista e membro fondatore Mick Box. I sei dischi includono brani selezionati da tutti i membri, compresi Ken Hensley e Lee Kerslake, entrambi venuti a mancare nel corso del 2020. A questa collezione di 77 brani si aggiungono sei art cart con note a cura di ciascun membro degli Uriah Heep.
Il commento di Mick Box:
"Chi l'avrebbe mai detto? 50 anni di Heep! La nostra musica ha continuato a resistere alla prova del tempo e i fan sono la ragione per cui siamo ancora qui a farlo. Non c'è sensazione migliore del sapere che la nostra musica ha resistito e che continuiamo a fare concerti in tutto il mondo!"
"Choices" è disponibile per il preorder a questo link: https://uriahheep.lnk.to/ChoicesPR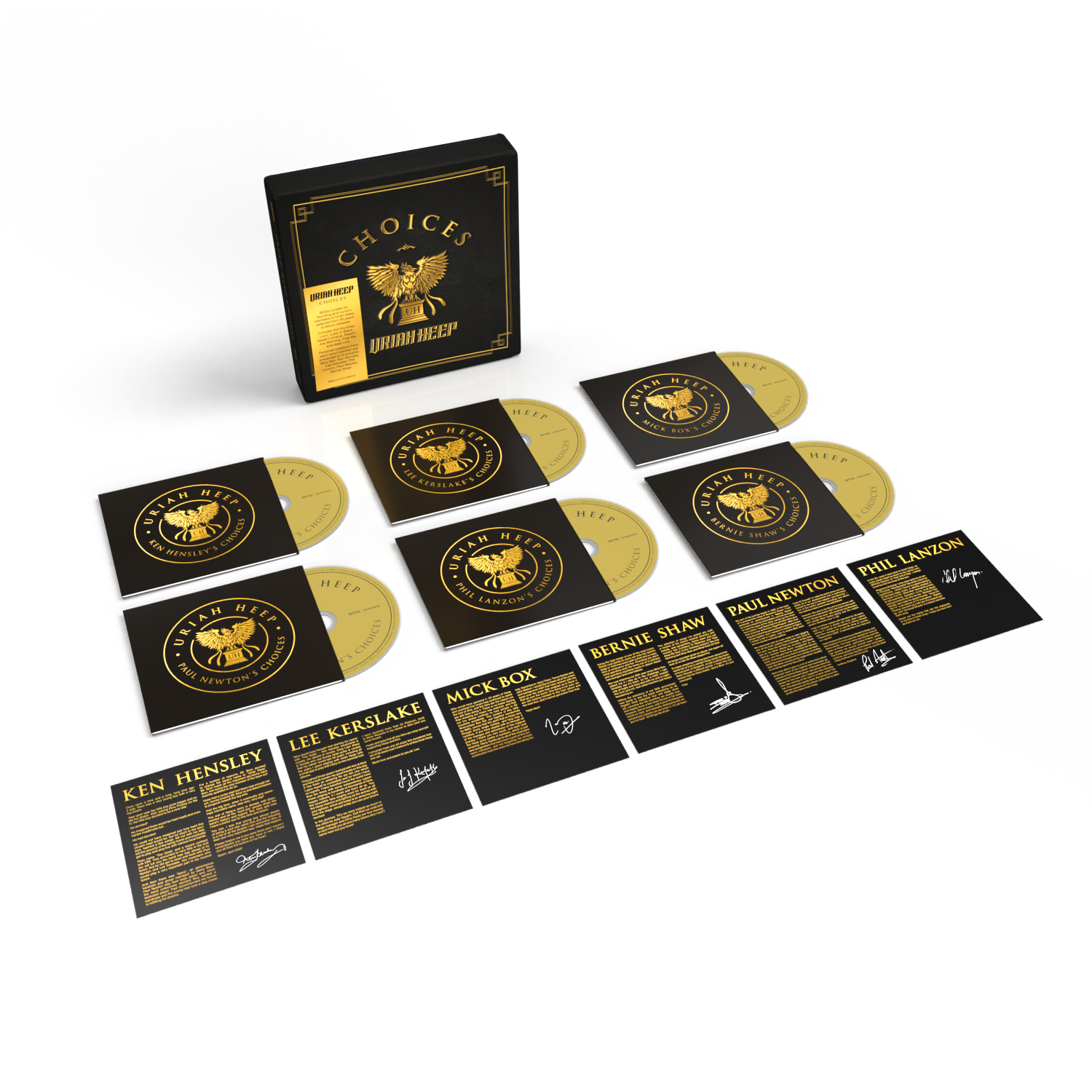 Di seguito la tracklist di "Choices":
CD1 – Ken Hensley
1.  Paradise
2. The Spell
3. Weep In Silence
4. Rain
5. Circle Of Hands
6. July Morning
7. The Park
8. Echoes In The Dark
9. Misty Eyes
10. Fallen Angel
11. The Easy Road
12. Falling In Love
13. Sunrise
14. Sweet Freedom
 
CD2 – Lee Kerslake
1. July Morning
2. The Magician's Birthday
3. Traveller In Time
4. Sweet Lorraine
5. Circus
6. Rainbow Demon
7. Come Back To Me
8. Shady Lady
9. All My Life
10. The Other Side Of Midnight
11. Who Needs Me
12. That's The Way That It Is
13. Free Me
14. Stealin'
CD3 – Mick Box
1. The Park
2. Tears In My Eyes
3. Sweet Lorraine
4. Circus
5. Free N' Easy
6. Woman Of The Night
7. Hot Persuasion
8. The Other Side Of Midnight
9. Straight Through The Heart
10. Cross That Line
11. Love In Silence
12. What Kind Of God
13. Trail Of Diamonds
14. The Outsider
15. Falling Under Your Spell
CD4 – Paul Newton
1. Lady In Black
2. Tales
3. Easy Livin'
4. Tears In My Eyes
5. If I Had The Time
6. Real Turned On
7. Come Away Melinda
8. What Should Be Done
9. Why (Alternate Version)
10. Sympathy
11. Free N' Easy
12. I'm Alive
13. One Minute
14. Grazed By Heaven
 
CD5 – Phil Lanzon
1.  A Year Or A Day
2. The Magician's Birthday
3. Wonderworld
4. Circus
5. Bad Bad Man
6. Question
7. Between Two Worlds
8. Voice On My TV
9. Universal Wheels
10. Waters Flowin'
 
CD6 – Bernie Shaw
1. July Morning
2. What Kind Of God
3. Mistress Of All Time
4. Wise Man
5. One Minute
6. Corridors Of Madness
7. Tales
8. Take Away My Soul
9. Heaven's Pain
10. Heartless Land
 
---
Il 24 settembre 2021 BMG pubblicherà inoltre il nuovo boxset degli URIAH HEEP "Every Day Rocks". Disponibile il preorder a questo link: https://uriahheep.lnk.to/EveryDayRocksPR
L'ambizioso boxset "Every Day Rocks" contiene i primi sette album della band inglese in formato picture disc e sette t-shirt (una per ogni giorno della settimana). Sono inclusi anche un calendario per 'pianificarne l'ascolto' e delle art card coi testi dei brani. Questi album sono ufficialmente disponibili per la prima volta in formato picture disc; "Demons And Wizards" e "The Magicians Birthday" avranno un artwork rinnovato ad opera di Roger Dean.
Il commento di Mick Box
"Insieme a BMG abbiamo voluto fare qualcosa di speciale per i nostri fan, qualcosa che darà loro un pezzo degli Heep, ogni singolo giorno della settimana. I nostri primi 7 album saranno pubblicati in picture disc e ci sarà una t-shirt per ogni album da indossare per ogni giorno della settimana. 
Abbiamo anche incluso un wall planner annuale in modo che tu possiate pianificare il vostro ascolto o semplicemente fare alcune note su come gli album vi fanno sentire"
Gli Uriah Heep hanno dimostrato a tutti di meritare il proprio status di leggende evocando un'era in cui il progressive, l'hard rock e l'heavy metal coesistevano in un periodo storico glorioso di musica senza confini. Dopo aver venduto oltre 40 milioni di album in tutto il mondo nel corso degli anni gli Uriah Heep hanno influenzato diverse band metal, tra cui lo stesso Ronnie James Dio. Gruppi come A-ha, King Diamond, Krokus, Demons & Wizards, Fifth Angel e Axel Rudi Pell hanno tutti citato Uriah Heep come una band di primaria influenza, mentre W.A.S.P, Tesla e Blackmore's Night eseguono tutt'ora delle cover in onore del gruppo inglese.
"Every Day Rocks" è disponibile esclusivamente tramite lo store ufficiale della band a questo link:https://uriahheep.lnk.to/EveryDayRocksPR